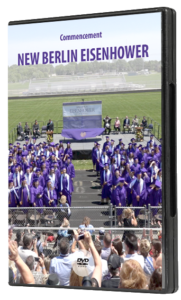 THE OFFICIAL CLASS OF 2018 GRADUATION DVD
For Eisenhower High School
4333 South Sunny Slope Road, New Berlin, WI 53151
SORRY, DVDs WILL NOT BE PRODUCED THIS YEAR FOR THE CLASS OF 2018. WE DID NOT RECEIVE SUFFICIENT ORDERS THIS YEAR TO COVER PRODUCTION COSTS. ANY EXISTING ORDERS WILL BE REFUNDED.
Tony Tang Productions, Inc., an experienced video production company that has been producing the Eisenhower Graduation video since 2006, is using four professional-quality HD video cameras and strategically placed microphones on stage and throughout the graduation venue to produce a professional-quality DVD of the graduation ceremony. This setup allows us to produce a graduation DVD of the highest possible quality. There is no reason for you to bring your own video camera!
What Does the Video Include?
Our DVD will cover the entire ceremony including the processional, speeches, music performed, close-ups of each graduate receiving his or her diploma, post-ceremony celebration at the venue, and each graduate's name in the closing credits.
When Will I Get My DVD?
All DVDs will be mailed to the address that you provide (within the 48 contiguous U.S.).  DVDs will be mailed to your address in July.
OUR GUARANTEE
You will receive a FULL REFUND (and you can keep the DVD) if we do not capture a close-up of your graduate receiving a diploma!
Order Online Securely Using PayPal by Friday, June 15, 2018 11:59:59 PM Central. Sorry, orders will not be accepted after this deadline.
We are a verified PayPal business, and your payment is guaranteed secure by PayPal.  PayPal accepts VISA, MasterCard, AMEX, Discover, or electronic checks!  You do not need to be a PayPal member, and you do not need to sign up for PayPal.  Just click the "Buy Now" button below.
The last day you can order a DVD is Friday, June 15, 2018 11:59:59 PM Central. Sorry, but no additional DVDs will be produced after that date.